Super Senior Award
The North Shore Senior Center held their 43rd Annual Super Senior Recognition Luncheon on May 26th, 2016, at the North Shore Senior Center in Northfield, Illinois.

Forty - two Seniors from North Shore Community organizations were honored as having truly made a difference to the community. Their caring deeds, expertise, and community involvement signify their commitment to their fellow citizens and to the areas in which they live. These seniors are a shining example of how the individual, in any number of ways, can contribute to the betterment of society and are exceptional role models for us all.


The Neighbors of Kenilworth
Honors Super Senior

Judy Dold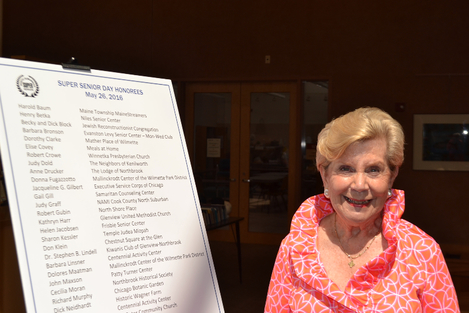 The Neighbors of Kenilworth selected Judy Dold to represent the organization as its 2016 Super Senior honoree.



May 2016
Judy with her daughter and NOK President, Judy with her husband, Bob Dold
Katie White.